By Alexia Bizumuremyi.
Some students and teachers from High School Institutions in Kigali say it is possible to create robots and other technologies that can help to solve existing problems on the globe, thanks to the boot camps that awaken their thinking beyond the theories.
The 130 students and their 30 teachers come from current Sciences, Technologies, Engineering and Mathematics (STEM) teaching schools.
They say they benefited a lot from the boot camps organized by Rwanda National Commission for UNESCO (CNRU) in collaboration with Rwanda Ministry of Education and local Education partners.
The boot camp lessons were disseminated into Robotics, Artificial Intelligence and Coding, Solid Modelling, 3D printing and Micro-science.
Trained students say that the acquired knowledge will help them to express school theories into physical solutions towards the fourth industrial revolution, like creating modern machinery used in Agriculture and Construction.
Kellya Sylvia Ukundwanase, a student at Fawe Girls School said: "we have to be able to express and explain our creations, and I am sure that hundred percent of us are able to do that, thanks to this boot camp's skills package."
According to Ir. Dominique Mvunabandi, Director of Science and Technology Unity in Rwanda National Commission for UNESCO (CNRU) the concluded boot camp was in line with STEM education development that matches with the fourth industrial revolution.
"Countries need to have updates on new technologies of innovation in various sectors including Education. It is the reason why this theme requires teachers, students and education partners to know what really the fourth industrial revolution is for them to revisit teaching and learning framework, especially STEM in schools." He added.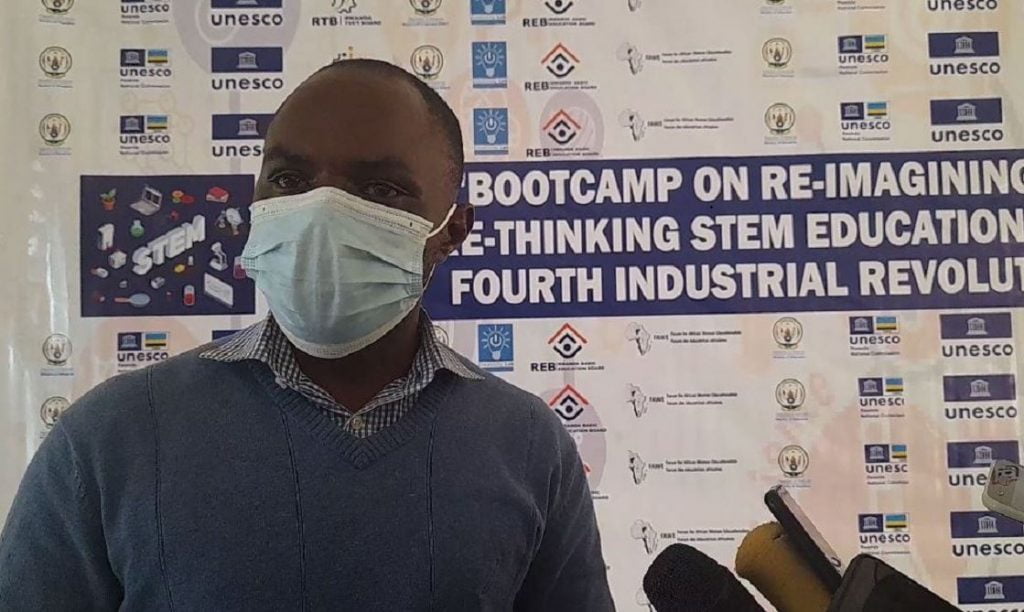 However the initiative plays a significant role in STEM education development, there are still challenges to attain the objectives like shortage of materials to teach these technologies in schools.
Engineer Paul Umukunzi, Director General of Rwanda TVET Board (RTB) said that the Government of Rwanda is working hard to address this challenge by availing efficient equipment that are responding to STEM Education requirements.