Strive Foundation Rwanda (SFR) in partnership with Human Help Network (HHN) have supported 225 families, most vulnerable to COVID-19 effect, with foodstuffs and oximeters, in Gasabo District.
The support was given to contribute to the District's initiated campaign called 'Save The Neighbor', whereby 150 COVID-19 positive quarantined families and 75 vulnerable families in various sectors were all supported with food items, in addition to a delivery of 50 Oximeters to boost the health care.
An oximeter is a test that measures how much oxygen is in someone's blood, and it is used often in hospitals and clinics and can be bought to use at home.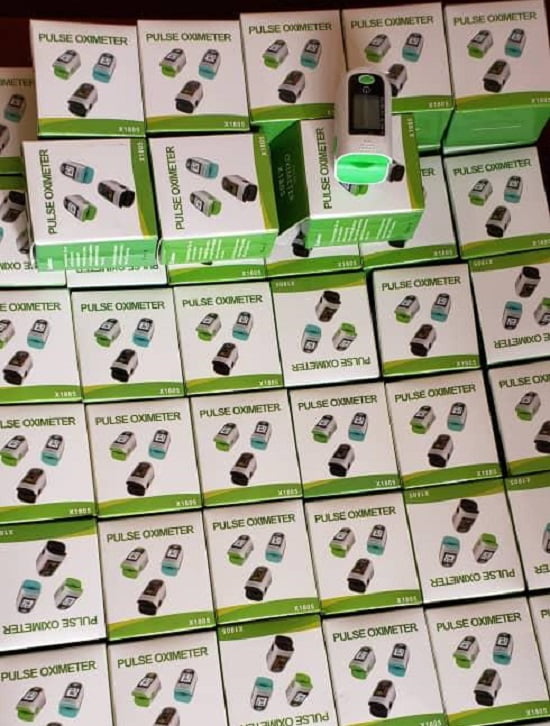 Speaking to Pressbox amid the event on March 28, 2021, Bernard Muramira, Executive Director of Strive Foundation Rwanda (SFR) said: "Gasabo District is really creating different initiatives. For example, we have been following closely how they implement the COVID-19 prevention. They have created their initiative called 'Save The Neighbor' which is really interesting and working well, because there is a seriousness in terms of home-based health care for people who are ill with COVID-19. So, as a partner we decided to come up with such a support."
The fifty oximeters were handed over to help the community health workers to follow the condition of the home-based patients; while the packages of foodstuffs were delivered to help vulnerable families cope with food insufficiency, all in four Sectors of Gasabo District namely: Bumbogo, Ndera, Kimironko and Kacyiru.
"As some of COVID-19 patients being treated at home have become vulnerable due to job stoppage, this food support has come in the right time to help those who are in need. We received support for 35 families and we hope it is going to cover their nutrition costs for a couple of weeks. We thank SFR for this support looking forward to a continuous collaboration towards a strong partnership leading to the sustainability of social welfare for the people," said Umuhoza Rwabukumba, Executive Secretary of Kimironko Sector.
Consolee Urayeneza, the Executive Secretary of Masoro Cell in Ndera Sector, was among other District's Representatives to receive the support packages. She told Pressbox that this kind of support plays a significant role in terms of boosting people's living conditions.
"We really thank Strive Foundation Rwanda (SFR) for this support. We have received foodstuffs for fifty vulnerable families amid COVID-19 effect. We are very grateful for a constant partnership between our Sector and SFR in terms of sustaining people's social development, health care, and schooling," she noted.
After receiving a package of foodstuffs, Gaud Bigeri, an ex-combatant, head of one family beneficiary of the support said: "I am thankful for this support which comes at the right time during this hard time of COVID-19. I can't thank enough the donors. I am a husband in a family of seven. My job was terminated, being the reason why we are exposed to bad living conditions."
GASABO DISTRICT RECOGNIZES SFR's ROLE.
In response to the constant, fruitful partnership with SFR, the District of Gasabo awarded a certificate of appreciation to the management of SFR.
Speaking to Pressbox about the partnership between Gasabo District and SFR, Regis Mudaheranwa, the Deputy Executive Administrator of Gasabo District said: "Strive Foundation Rwanda is one of the great partners we jointly work hand in hand to promote the lives our vulnerable people in Gasabo District. We dedicated that certificate to them, for the uncounted services provided to our vulnerable population in the social development aspect. They have always responded positively towards our call for any support like the recent launched 'Operation Save The Neighbor', whereby 150 home based COVID19 patients were given food items, plus 50-Oxymetres. So, our partnership is very significant, because it responds to the immediate real cause."
Since the outbreak of COVID-19 in March 2020, Strive Foundation Rwanda (SFR), as a partner of the government of Rwanda, has contributed through different programs in terms of helping the most vulnerable communities countrywide, with foodstuffs, hygiene materials and healthcare devices, especially during lockdowns.