Sixty vulnerable families in Musanze District have benefited from the project on improving nutrition and hygiene implemented by African Initiative for Mankind Progress Organization (AIMPO), through which awareness campaigns and sanitation materials were availed.
The six-month project "Improving Hygiene, Nutrition and Sanitation Conditions in Vulnerable Communities of Musanze District" was realized with financial support of the Swiss Federal Department of Foreign Affairs, acting through Swiss Regional Cooperation Office Great Lakes, Rwanda, Burundi, DR Congo with objective to address Hygiene, Sanitation and Malnutrition which are most pressing problems confronting Historically Marginalized People and neighboring vulnerable community of Musanze district.
According to Francois Xavier Harelimana, project manager at AIMPO, beneficiaries were assisted through awareness and the provision of basic hygiene materials.
"We guided people in how to prepare a healthy diet. We cooked for children under the age of five with malnutrition, and we used to do it every Tuesday, cooking together and feeding them. We trained them on how to cook a balanced and affordable diet, like in the so-called 'one-hour pot' program where a citizen cooks a balanced, low-cost meal, in one cooker. We trained mentors to help the community build kitchen gardens." He said.
He added: "Another thing is cleanliness, because a balanced diet without hygienic conditions, means nothing. We provided mattresses, water filters, and toilets. We also campaigned on how to sustain hygiene, in partnership with community health workers."
AIMPO called on beneficiaries to change their perceptions, where some believe that being in the category of historically marginalized people means that they are not as privileged as the rest of the population, and urged them to endeavor and step out of that category.
Speaking to Pressbox, beneficiaries expressed their appreciation, and called for continued efforts to raise awareness as some of them still have backward mindset.
David Nambajimana, a resident of Musanze sector, said: "I benefitted a lot. We were trained to cook a balanced diet, so that by now I can help others to do it right. I was given a mattress and other hygiene supplies. We used to sleep in an unhealthy place, on the ground and on sprayed weed, and without a mat at the point that we found ourselves wrinkled, and now the mattresses have been delivered. Some of us didn't even have shoes, before the donated slippers. "
On the side of Bonifride Nyiransabimana, the project has been useful and needs to be prolonged.
"I was trained on how to cook and the way I should guide other people. At home we had faced malnutrition especially persistent in our children, but now many parents have become well-trained and can cook a balanced diet. Some had no toilets but now they have them already. This project was much needed in my locality and we wish it lasted for longer, reaching more vulnerable families. More awareness campaigns are needed to further change primitive mindset in the community."
The project was initially due from December 2019 to 31st May 2020, but due to COVID-19 pandemic, the second phase of three months resumed from July to September 2020.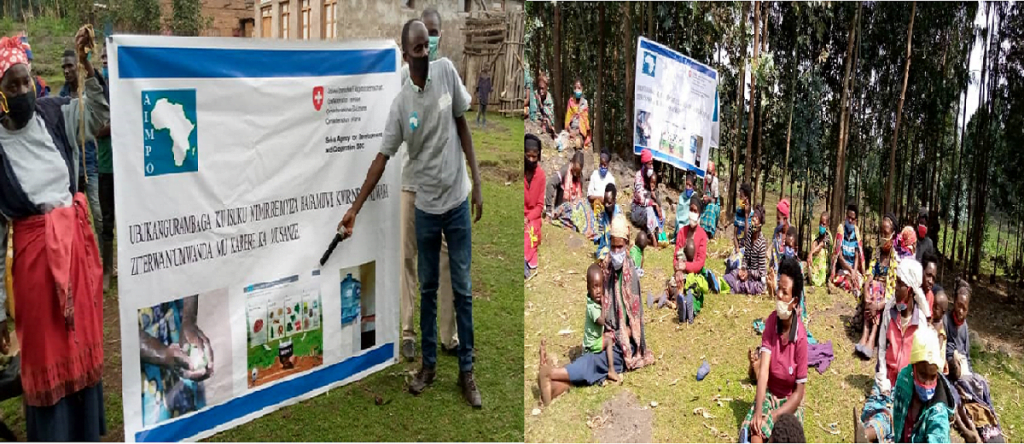 AIMPO was established in 2001 and operates mainly in Musanze, Bugesera, Nyabihu, Rulindo, Gasabo and Nyagatare districts, with a focus on the rights of the historically marginalized people, through advocacy for their development.