By Cypridion Habimana
In Bugesera district, Ruhuha sector, Niyonteze Jean Bosco who is visually impaired with back disability decided to make shoes, bags, and belts using old tires, he buys from vehicles owners and garages and uses animal skins.
Niyonteze Jean Bosco, who is also a songwriter and singer, especially in Churches (ADEPR), was born in Shyara sector in Kabagugu cell but He works in Ruhuha sector all in Bugesera district, he has a wife and two children, this man says that he decided to enter in this job of making shoes, bags, and belts after realizing that art alone could not improve the life of his family as one with disability.
From 2020 since he started this job up to now in 2023, he says that he has obtained a lot including a house of fifteen million (Rwf15,000,000) in Ruhuha, a city where it is usually difficult to buy a plot of land due to the development of this city.
He obtained also a modern machine of a million and a half RWF used in this job, but when he started he used a sewing machine to sew shoes, he currently makes all kinds of shoes both closed and open, women's bags and belts, so that if somebody want shoes according to his/her size of foot gives a command and they make them; this also makes those who want similar shoes including 'certain groups and choirs give him a command and he makes shoes for them.
After changing his mind as a person with a disability, Niyonteze says that he overcomes the sadness he had before, and he helps others now he advises other young people to take their hands out of their pockets and work hard because finding a job is easy, they can even use the tools that are available where they live; as he also makes these items using old tires from cars owners and mechanics and also uses animal skins.
"Some youths out here are putting their hands in their pockets; some can see me with two million dollars and consider that I was born with money but it's not true. I am one of the people who were expected to beg, but after changing my mind I have seen that jobs are available but many people don't know. You see I use these old tires which could be thrown away and the leather considered useless, I use them to make shoes, so the job is there I encourage youths to join me I can teach them"; said Niyonteze Jean Bosco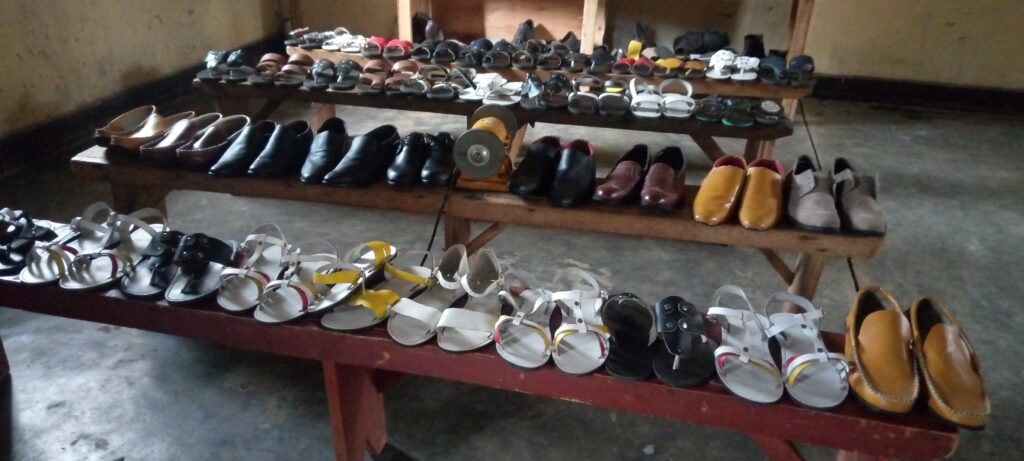 Shoes made by Niyonteze (photo by Cypridion Habimana)
Bosco's project employs seven workers including his wife, but he claims that he would employ even twenty due to the available job of marketing, and he would teach them like others he taught and now they set up their own businesses.
Byumvuhore Jerome; one of Bosco's employees says, "This job has prevented me from entering into things that do not concern the youth and help me to develop myself and my country"
"A person works for his dreams, I would look at the shoes and wonder how they are made, I thank God for giving to us Mr. Bosco who taught me, so now I am able to take care of my family all from this work," said Nzasingizimana Gerald; one of Bosco's trainees.
Apart from the workers he uses in this project, Mr. Niyonteze says that he needs to help a large number of young people from unemployment, by teaching them this profession, but he has a problem with a few equipment, so he asks the authorities to visit them and help them access to adequate materials and resources.
He says, "Many times when I look at people who don't have jobs, I feel to teach them but I don't have enough materials I can use; the nurses and the machines are not enough. My abilities are small because I am still building myself and I see that I am not able to help a large number of others, I ask the officials to visit us and see the activities we are doing and help us to strengthen our project so that we can also help a large number of others"
The Executive Secretary of Rwanda National Council of Persons with Disabilities; Mr Emmanuel Ndayisaba, says that this council together with other organizations that care for persons with disabilities, continues to follow up on persons with disabilities to help them speed up development, from year 2012, the Government of Rwanda gives each district a budget of people with disabilities and have a worker in charge of the disabled people in every district.
Mr.Ndayisaba asks those who want to start a business and those who have already started them to show their activities to different Institutions, and show them the obstacles they face because they are ready to help them with tools and finances.
"We are proud that since 2012 in every district there is a budget for people with disabilities and there is a worker in charge of people with disabilities. I ask those who have the projects to approach different governmental institutions, local Governmental leaders, as they are ready to to help them.
The statistics given by The National Council of Persons with Disabilities show that by now in 2023 In Rwanda there are more than 1,000 cooperatives of persons with disabilities. Vocational and vocational training are expected to be a solution to poverty eradication, because more than 70 percent of those who study in this field; immediately get jobs and are appreciated by employers at a rate of over 80 percent.
Women's bags made by Niyonteze (Photo Cypridion Habimana)