Parents in Ntarama sector of Bugesera district have been urged to assume responsibility on children's exposure on social media as technology advances rapidly.
The message was delivered by Internet Society Rwanda Chapter (ISOC-Rwanda) in partnership with Bugesera district at G.S Nyirarukobwa located in Ntarama sector on February 7, 2023, during the celebration of Safer Internet Day 2023, under the theme "Children's privacy in the age of social media, bringing together children, youth, parents, teachers, civil society organizations, faith-based organizations, industry representatives, experts, policy makers, researchers, and media representatives among other relevant actors.
Emmanuel Mfitumukiza, Chairperson of Internet Society Rwanda Chapter explained that Safer Internet Day aims at raising awareness of the importance of both a safer and better Internet where everyone is empowered to use technology responsibly, respectfully, critically and creatively.
He requested parents and the general community of internet users to avoid posting on social media kinds of information that are not in children's benefits and wellbeing.
"We encourage parents to use internet and strive for children's rights and safety. Protecting a child is a responsibility of a parent, but it does not mean to deprive him/her from his/her rights, a child has right on internet, but he/she should be protected from harmful information. We want internet to be a good infrastructure of people to improve lives," Mfitumukiza said.
He furtherly evoked that parents are the main actors that play a crucial role in empowering and supporting children to use technology responsibly, respectfully, critically and creatively, whether it is by ensuring an open dialogue with their children, educating them to use technology safely and positively, or by acting as digital role models.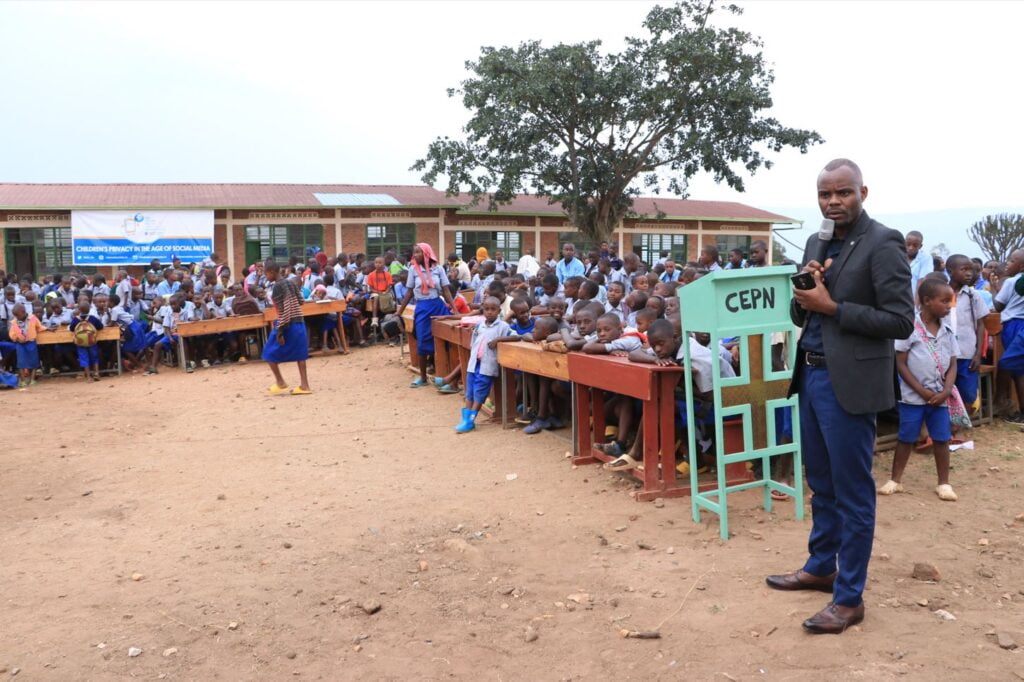 Safer Internet Day means a lot in the lives of the communities surrounding the school and for children in particular, according to Eliab Nkurikiyimana, one of the parents that have children at G.S Nyirarukobwa.
"Internet is for all of us, as a parent, I have a responsibility to tell other parents that everyone needs to use internet to know information for the progress of children's welfare and development of the family," he said.
Speaking on behalf of faith-based organizations, Pastor Etienne Bizimungu, advised children to have discipline when using internet and in their current life in order to succeed and achieve their potentials in their future careers.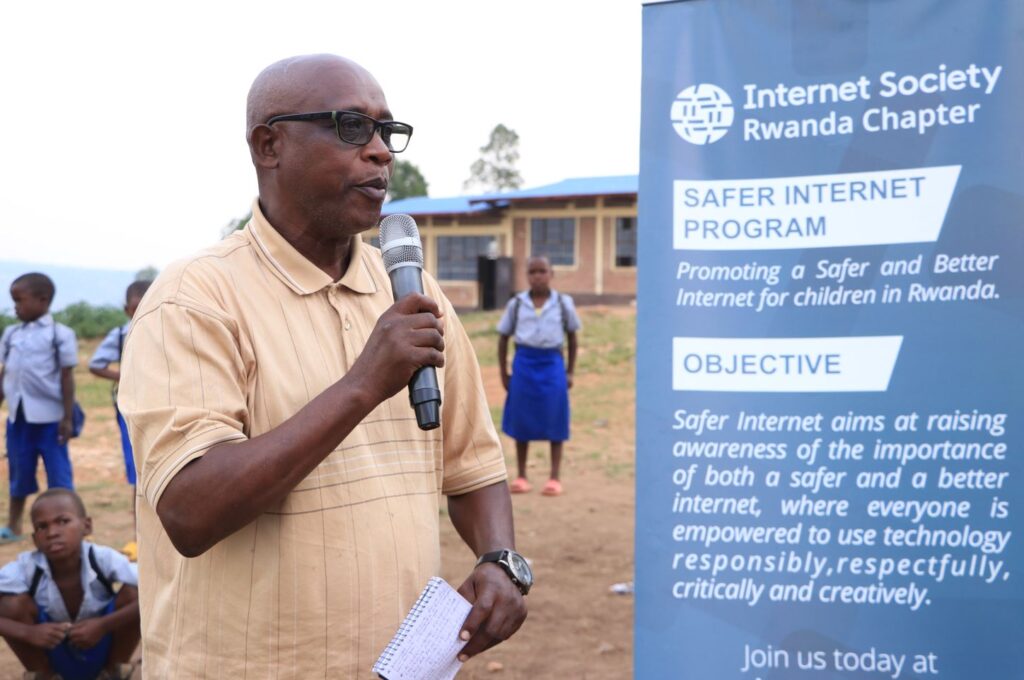 Theophile Nkundingabo, Headteacher of G.S Nyirarukobwa said that Safer Internet Day increased awareness of internet use in the school and in the surrounding communities since 2020.
"In partnership with internet Society Rwanda Chapter, we Started to celebrate this day in 2020 during Covid-19. Parents and children use internet, we mobilize them to understand what the internet is and how it can be used with respect to children safety," Nkundingabo said.
Jacques Gashumba, Director of Education in Bugesera District said: "Safet Internet Day is important for us, we meet parents, teachers, headteachers and students and we discuss the role of internet and technology use in schools. Internet is a good infrastructure that spread knowledge in different ways, but it can harm children and other users in another way as some posts re from different cultures, parents should guide children and tell them to use internet to learn good things and avoid harmful contents that undermine their lives,"
He advised parents to talk to their children and tell them that they are the ones to take care of their safety. "Parents must consult what children are doing in their rooms at home when doing homework and check if they are not watching harmful information," he added.
During the event, winners of the scratch school-based competition were awarded.
Rwema Murema Sadako, 11, a student of primary five at G.S Nyirarukobwa was awarded for her outstanding project of fighting school dropout. She used scratch programming and came up with a story telling video that educates the community on the role of education of children.
"I had an objective to tell students that their future is rooted from education, I encourage my fellow children to explore a computer and learn to use different programs, but they should avoid searching information like pornography, which is bad for them as they can be trapped in early sexuality and get pregnant as a result," she says.
Oreste Cyusa, 16, a student of senior3 at G.S Nyirarukobwa was awarded for his project that aims at preventing unwanted pregnancies among teenagers.
"By using scratch program, I built a story of a girl who dropped out of school after getting pregnant. I am very happy for my reward and I will continue to explore internet to learn and gain more skills," Cyusa said.
Scratch is a free programming language and online community that is used to create own interactive stories, games, and animations.