By Malachie Tuyishime.
Modern poultry farming is becoming popular in Rwanda with farmers saying the new way of doing things has started to pay off. However, veterinarians warn of a reduction of production if farmers ignore good practices that promote the wellbeing of chickens, which are crucial for animal welfare.
There are three main chicken production systems; free-range, deep litter and battery cages. The battery cages system is gaining momentum because it offers many benefits on ensuring maximum production compared to other systems.
Unlike the traditional system where farmers reared a small number of chicken for domestic consumption, modern poultry farming is market-oriented, where farmers have thousands of chicken.
David Muvunyi is a poultry farmer in one battery cage farm of 4000 chickens located in Eastern province of Rwanda, Rwamagana District.
He spoke to reporters on one Thursday at his farm. Muvunyi had just taken a team of consultants led by Dr Jean Claude Masengesho who works with Africa Network for Animal Welfare (ANAW), an NGO based in Kenya, on their ongoing project entitled "Assessing the status of battery caged chickens farming and its legal /policy framework in Rwanda."
Muvunyi, said that the battery cage as a modern system increases profits.
"Poultry farming in Rwanda is developing and there's a good potential because many people are joining it. The modern farming is much better than the traditional way, which has many risks and investors can't put in their money," said Muvunyi, who manages a cage farm of 4,000 chicken.
"It would be very hard for you to rear 4,000 chicken using the traditional way. But with cages, chickens are more manageable, you keep the farm clean, and the expenses on antibiotics are much lower. They drink enough water and you make sure each chicken takes its feed and lays eggs," he added.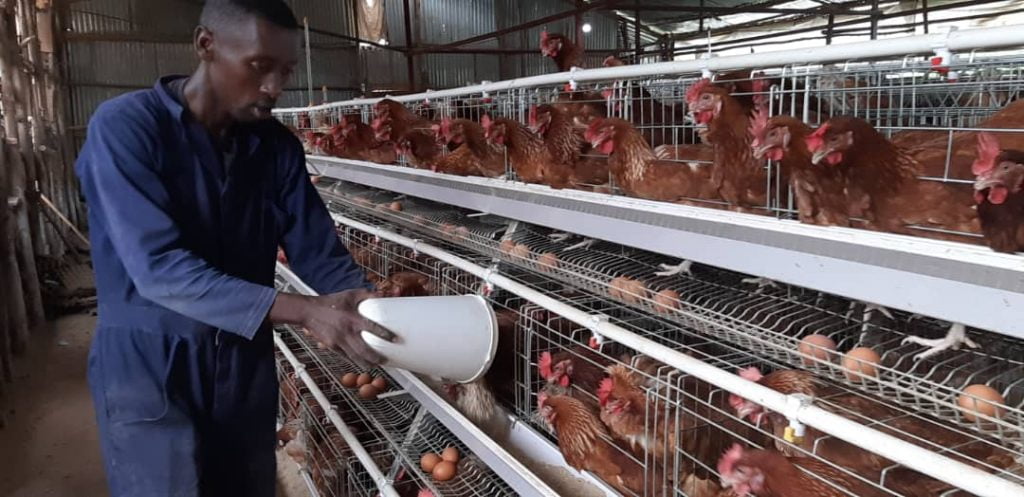 The team led by Dr Masengesho also had an interview with Innocent Bazimaziki, another farmer based in Musanze District owning 2500 layer chickens. He uses the deep-liter system in his farming where chickens are reared in a large hall and freer to move.
He said he chose deep-liter system because it allows chickens to fly freely and make movements.
Despite the gains from this modern technology, Africa Network for Animal Welfare has raised concerns stating that it infringes on birds' rights.
Dr Masengesho, a veterinarian, said that modern poultry farms need to ensure that chickens are experiencing good life.
"Apparently, battery cage farming is very profitable in terms of using small space, less labor, easy management and disease prevention compared to deep litter system. However, as animal welfare researchers, we are assessing the fulfillment of the five freedoms of animals, namely freedom from hunger and thirst; freedom from discomfort; freedom from pain, injury, anddisease; freedom to express normal and natural behavior," Dr Masengesho said.
He said: "Farmers should balance the profits with animals' welfare, because for instance if the chicken is stressed, that may result into death, and the famer will lose both the production and chicken itself."
In Rwanda, poultry farms produce eggs and meat needed locally and internationally. According to figures from the Ministry of Agriculture, in 2016-2017, Rwanda produced over 15,700 tonnes of chicken meat and 234 tonnes of eggs. The government projection was that chicken meat production had to reach 20,000-35,000 tonnes in 2021-2022, while eggs production had to reach 369-512 tonnes.
"As an animal welfare experts, we advocate for the best practice regarding animals welfare, focusing on and promoting humane treatment of all animal species, both domestic and wildlife," Dr Masengesho said.
He added when it comes to welfare concerns, especially on the animals, the birds are constrained, and their natural behaviors are restricted as they cannot move around, nest or flap their wings.
"We invite farmers practicing these modern systems to discuss the issues and gain as much profits as they can from the production systems while checking on the aspects of animals' welfare," he said.
"From our research findings, we expect to advocate for the poultry farming system where chickens can roam around freely and enjoy their freedoms."