ARDE/KUBAHO commends Geological Agriculture method to local farmers as a choice to inexpensively sustain access to nutrition in their households.
Geological Agriculture or GeoAg is all about growing plants in rocks without the use of soils and fertilizers, being a low-cost farming method, according to Marie Diane Uwayezu, Agriculture and food security officer at ARDE/KUBAHO.
"Based on land scarcity that in Rwanda, based on low investment required by this kind of farming, based on less physical energy compared to the normal farming and based on our seasons that depend on the rain, GeoAg is undoubtedly feasible everywhere in Rwanda." Uwayezu explained.
"GeoAg Requires no fertilizers, as it is independent to climate, exposed to less attack from pests and diseases. Anyone interested in GeoAg may get connected to ARDE/KUBAHO and get training about this farming." She added.
ARDE/KUBAHO staff has been receiving GeoAg zoom training sessions from the United State weekly organized by GeoAg founder Richard Campbell, to further learn more about that farming method and later be able to guide interested Rwandan people through its feasibility.
"We will work with other institutions in Rwanda: universities, ministry of agriculture and other agriculture bodies. This farming method will likely be feasible and beneficial according to what ARDE found on the field. This method is compatible with Climate Change" Said founder Campbell during a press conference held on Thursday November 12th 2020.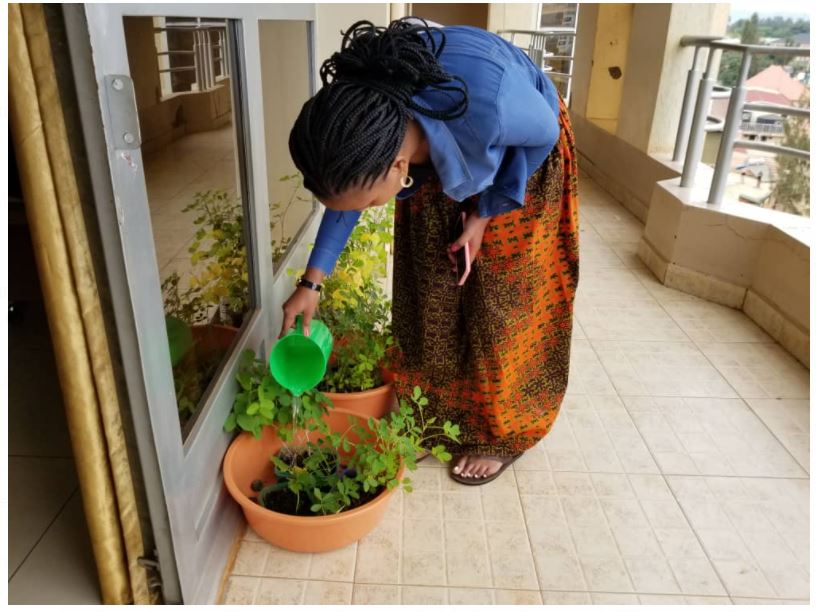 With the assistance from founder Richard Campbell, ARDE/KUBAHO staff members are continuing their study of GeoAg by growing peanuts and soybeans to full term and test other plants in Rwandan rock.
Speaking to Pressbox, Mr. Augustin Bahati, Executive Director of ARDE/KUBAHO said: "The weekly training on GeoAg has been transformative to me and to the whole staff of the Organization on how we view food security in Rwanda. On the first day of training, we didn't expect the current situation of plants. But, according to the progress of times, the plants have been growing and maturing, hence now we have hope of success of this agriculture technics, and that why we encourage our fellow Africans from different countries to keep up this technique, then seeking support from around world to support this research and training process for two coming years."
Geological Agriculture method is expected to contribute to sustaining food security in Rwanda, basing on its advantageous assets namely: over 50% less watering, 90% less weeding, Self-composting, durability, growing many plant types and varieties, and drought resistance among others.
The method suits different plant species, mainly: soybeans, peanuts and pepper.