The United States has donated more than Rwf200 million worth of medical supplies to Rwanda to protect doctors, nurses, other medical workers, and their patients from COVID-19.
The donation handover took place at the Nyamata Hospital in Bugesera district on Thursday, November 12, 2020 – led by the U.S. Ambassador Peter H. Vrooman – including boxes of N95 and surgical masks, surgical and non-surgical gloves, and gumboots.
"Today I am happy to provide such a support which will undoubtedly be useful here in the hospital. This kit will protect nurses, health-counsellors, and doctors against COVID-19 infection." Said Vrooman.
The new protective medical supplies were funded by the U.S. Department of Defense and handed over to the USAID Ingobyi Project, which works with the Ministry of Health in Rwandan district hospitals, health centers, and at the community level.
"Let me thank Ambassador Vrooman for your continuous support to the people of Rwanda, during this global pandemic. Today's donation will boost our efforts to prevent transmission and the management of COVID-19 in the hospitals that we are supporting but particularly in five hospitals where we have established isolation units, Nyamata Hospital being one of them – four others including Ruhengeri, Byumba, Nyanza and Murunda District Hospitals." said Samson Radeny, Chief of Party, USAID Ingobyi Project, Rwanda.
He added: "We are also in the process of completing three other isolation units supported again by the USA Government in Eastern Province. Those facilities will be ready for use in about a week's time."
The supplies, known collectively as Personal Protective Equipment (PPE) are critical for Rwanda's frontline healthcare workers to stop the spread of COVID-19. The PPE allows healthcare workers to protect themselves and their patients, including those who need routine or emergency medical care during the global COVID-19 pandemic.
According to Dr. William Rutagengwa, Director General of Nyamata Hospital the provided support is essential for health service in general.
"We are thankful to Ingobyi Activity, Intrahealth and USAID for this support. This is a remarkable act for our hospital and generally the health care service in the District." He acclaimed.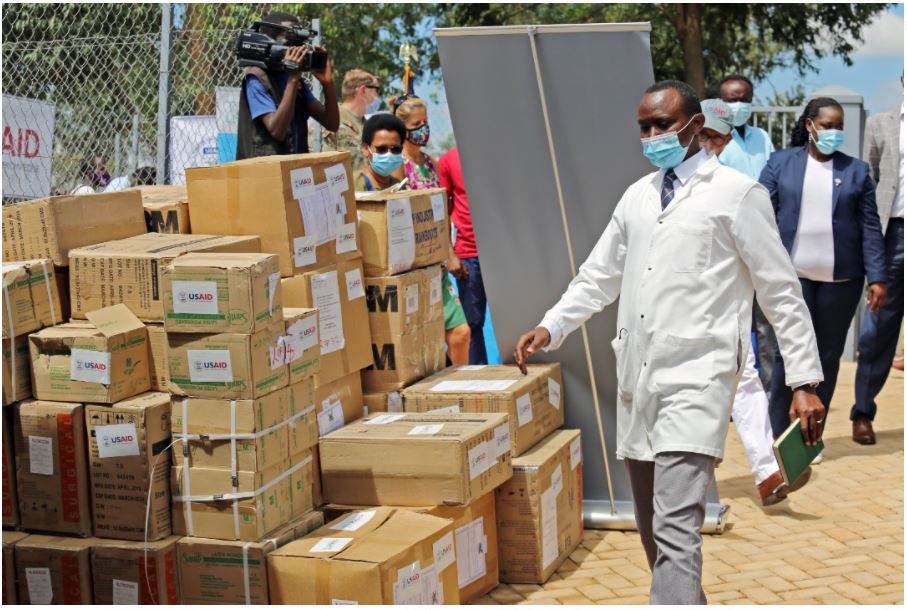 Nyamata Hospital is one of eight hospitals where USAID has funded isolation units designed to treat patients with highly infectious diseases like COVID-19.
Among other participants at the event were: Ministry of Health's Director General of Clinical and Public Health Services, Dr. Zuberi Muvunyi, representatives from USAID Ingobyi, USAID Rwanda, and the U.S. Department of Defense.
"USA is among our big donors during this time of COVID-19. These supplies are essential because the pandemic is still there, and we have to keep fighting it with such kits." Said Dr. Muvunyi.
The donation is part of the more than Rwf11 billion that the United States has contributed to the COVID-19 response in Rwanda. The total support includes the construction of handwashing stations in districts across Rwanda; support for public communications to fight COVID-19; vehicles to support contact tracing; medical equipment such as 100 state-of-the-art ventilators, patient monitors, hospital beds, and intensive care units; and other medical supplies such as biohazard bags, alcohol, hand washing soap, and personal protective equipment.