Nyamirambo Women's Center (NWC) has supported its beneficiaries and guides with foodstuffs and hygiene materials amid the effect of COVID-19, in Kigali.
The donation was released in partnership with Planeterra Foundation, a non-profit organization that contribute funds towards projects in areas of social enterprise, healthcare, conservation, and emergency response.
According to Mary Nyangoma, member & Project Coordinator at NWC, supported groups are beneficiaries (people at stop centers within the community where tourists explore) and guides, individuals who help NWC in implementing community tourism activities.
"We call this group of people that we are supporting 'our beneficiaries'. They help us in our regular community tourism activities. We actually give them no big support. But there is a south African institution called 'Planeterra' that used to send us tourists through Adventure Travel Company G.Adventures (G.A). It was a consistent partnership as they would send tourists on a monthly basis, until COVID-19 occurred and interrupted the progression." She Explained.
Nyangoma added: "This support is from Planeterra, they recognized our collaboration and sent us a funding under conditions to share with our beneficiaries and guides."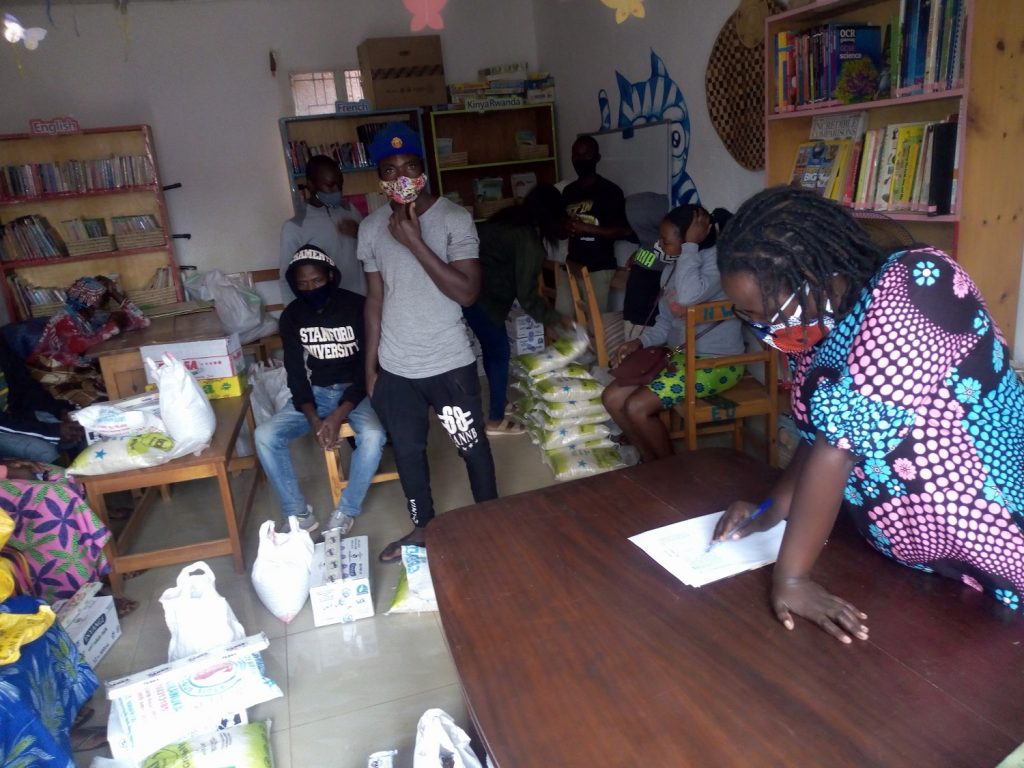 Delivered packages included rice, maize flour, beans, milk, bars of soap, protective face masks and hand sanitizers.
"I am a water supplier in Biryogo cell (in Nyarugenge District). When tourists are here in Kigali, brought by NWC, I welcome them. I show them how water is supplied in this place. I'm thankful for this support. It is an encouragement in terms of food security at my home. And with these hygiene materials, we will easily fight Coronavirus." Said Alphonse Muragijimana, a guide, benefiting from NWC's tourism activities.
Another beneficiary who expressed her appreciation is Diane Ugiriwabo who said: "I sell foodstuffs at the side of Biryogo market. I am used to receiving foreign tourists taken here by NWC. This support is helpful as it came unexpectedly during the period of Coronavirus pandemic which caused food insecurity, and other life complications."
Nyamirambo Women's Center (NWC), a Rwandan NGO, has among other objectives, to promote women and community-based tourism.
​Through principles of responsible Community Based Tourism (CBT), tourists are given a uniquely personal insight into everyday life and local social culture.
NWC boast about its sustainability of income generated by the increasingly popular tourism offerings in Nyamirambo. Also, as a part of their CBT initiative, the Center offers basket weaving and traditional cooking workshops.