Twenty-five swimming coaches from fifteen local clubs have been offered virtual training, respecting preventive measures against Coronavirus pandemic.
The beneficiaries of the training are from Rubavu District based clubs, Karongi team, Rwamagana, Rwesero and various clubs based in Kigali city – with later inclusion of senior coaches who will be assessing the feasibility of the courses provided to the previous beneficiaries.
Pamela Girimbabazi, Rwanda Swimming Federation (RSF) President told the media that the objective of the training was to brief coaches on their duties towards athletes, reminding that we are facing a strange era of Coronavirus pandemic, that they have to recognize it during the time sports activities will have been restarted.
The training was conducted by Rwanda Swimming Federation (RSF) with support from International Swimming Federation (FINA) – in which Instructor Bill Sakovich was delegated.
Girimbabazi said that targeted courses for this training – which is underway (August 10th – 13th) mainly include intensive care for athletes in pursuing victories.
"Coaches ought to converse with athletes, with objectives they have to contribute a lot to the development of swimming sport in the country." Said Girimbabazi.
This is an initial training aiming to assess the standard of current coaches, with future plan to rank them according to the ability everyone will manifest.
"This training focuses on evaluating their knowledge with possibility to organize further session in the future, accordingly. It is as well an opportunity to caution them on this time of COVID-19 that they may keep in mind the carefulness towards the strange era of the pandemic." She added.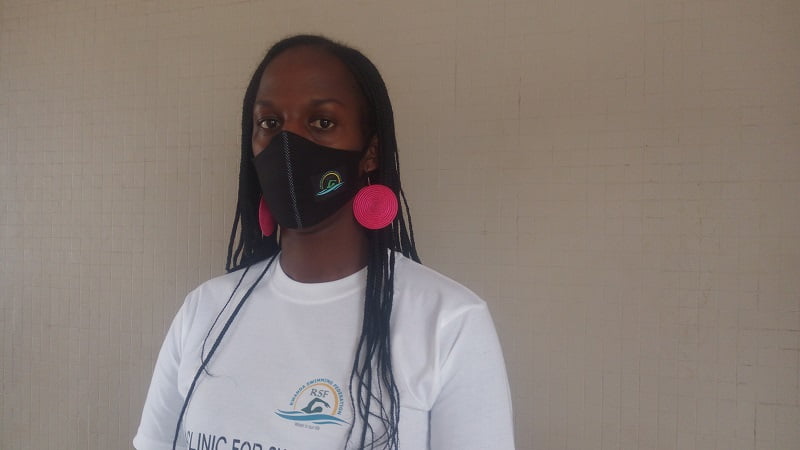 Coach Jimmy Ndori of Mako Shark Swimming Club, being the national team coach, as well said that from this training he expects to sharpen skills on all swimming techniques and what really should be a good conversation between a coach and athlete on the field.
Ndoli says that when they return to their clubs, there will be an improvement on the level of competition as every coach will have been given necessary tips to improve knowledge.
Neema Umutoni, unattached coach says that this training for swimming coaches were very much needed and helpful indeed.
"This training is very crucial as it instructs us on caring for young swimmers. We have been out of duty for a while due to coronavirus pandemic and now this is an opportunity for us to recover with improved knowledge on coaching. We will be able to cope with coaching methods in this unusual era of COVID-19." Said Umutoni.
Speaking to the media amid the occasion, Alexis Sharangabo, General Secretary of National Olympic and Sports Committee (CNOSR) said that this is a significant opportunity for coaches to have training in the time of COVID-19, because by the return of sports activities in the country, each of them will be fully prepared.
"I called them on profiting from this opportunity as the federation expects more from them through their occupation of helping swimmers improve their skills which lead to the development of the game." He said.
Sharangabo recommended Rwanda Swimming Federation (RSF) to do a follow-up to see whether the trained coaches will implement what they acquired from the courses obtained during this training.