The 5th edition of the YouthConnekt Africa Summit (YCAS 2022) kicked off in Kigali with over 9,000 participants from 98 countries, including African presidents and leaders rallying the youth to take the lead in the continent's development.
Taking place from 13 – 15 October 2022, YCAS 2022 is organised by the Government of Rwanda through the Ministry of Youth and Culture, in partnership with the United Nations Development Programme (UNDP).
Held under the theme: «Accelerating Investment in Youth: Resilient Youth, Resilient Africa», this year's gathering features plenaries, roundtables, youth labs, research publications, walk through exhibitions, training Sessions, Xchange lounges, speed networking cafes, Ted-talk style presentations, pop-ups, and city immersion experiences.
Some of the topics of the summit include youth discourse for peace; reimagining business for Africa's cultural, creative Industry, and sports economy; leapfrogging into the digital era; Made in Africa – the future of Africa's production and trade; the future of agriculture in Africa; and making a case for youth sexual and mental health.
Speaking at the YCAS 2022 opening, His Excellency President Paul Kagame challenged the cliché that Africa is only a place of problems, calling on leaders to listen to the youth in setting the continent's agenda.
"We have to deal with our own problems, but we are not a continent of problems. We must also, and as leaders, do our part to recognize that young people are equal partners in our development agenda. We know you have ideas on how to trade more effectively, build stronger health systems, combat climate change, reduce inequality, and much more. We therefore have a duty to listen to you, and work with you."
During the opening panel, President Kagame encouraged the youth to position themselves to seize opportunities that will change the world.
In a video message, His Excellency Hage Geingob, President of Namibia said:
"Young people in Africa should embrace the fourth industrial revolution as part of the economic transformation of the continent."
He called upon African states to enhance youth participation and inclusion through representation at all levels of decision-making.
On his part, Kenyan Vice President, His Excellency Rigathi Gachagua who travelled with a dozen of recently elected youth parliamentarians, challenged the youth not to shy away from the responsibilities that fate has placed in their hands, and to lead Africa to the next level.
"Don't believe the story that you are the leaders of tomorrow. Be the leaders of today. The leaders of this age are the young people of Africa."
Joining virtually in a video message, His Excellency the President of Senegal, Macky Sall noted:
"Taking care of our youth is the best investment we can make for the present and the future. Because it's the young people who will ensure the future."
UNDP Representative to Rwanda, Mr. Maxwell Gomera concluded:
"Africa's pathway to prosperity needs supercharging, with youth as an engine for growth. UNDP works with governments across the continent to enable the best ideas to grow to scale. Together with our partners we are enabling individuals, families, and communities to prosper."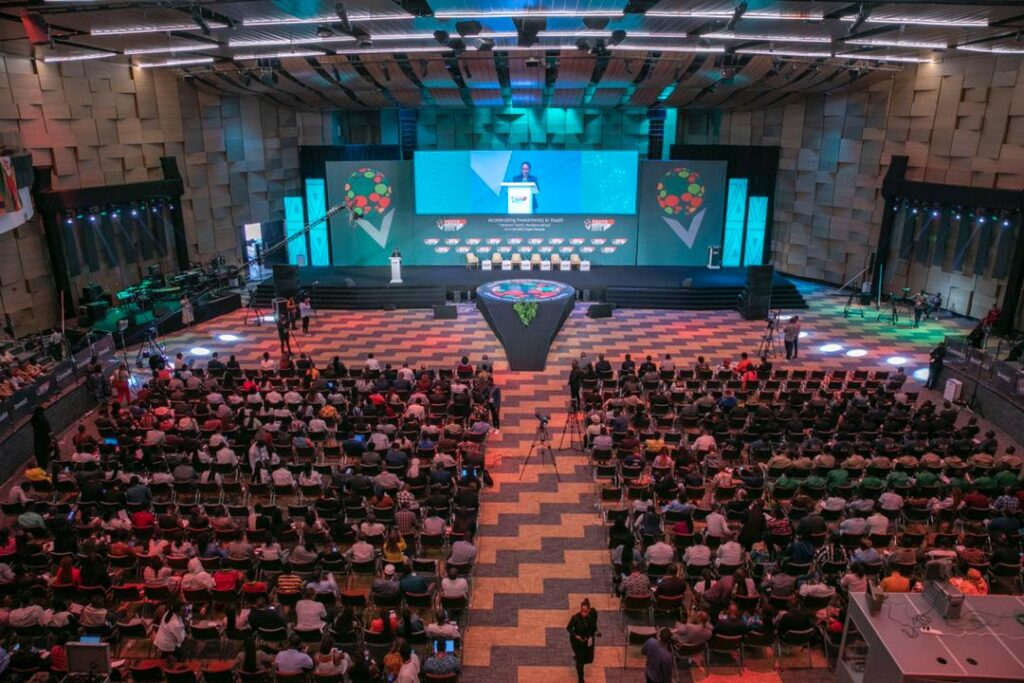 YouthConnekt Africa is a continental initiative with the mission to empower young people by enhancing their knowledge, experiences and skills while investing in their ideas, innovations and initiatives to harness Africa's demographic dividend which aims at contributing to the achievement of Africa's SDGs mandate, the AU 2063 agenda, and AU Youth Charter.
It was initiated in 2012 by the Government of Rwanda in partnership with the UNDP and is a multifaceted youth empowerment model focused on leveraging youth employability, entrepreneurship and civic engagement through innovation.