Elias Hakizimana is a media entrepreneur whose journey is a bit mysterious due to various obstacles he met while experiencing Journalism career after graduating from the University of Rwanda's College of Arts and Social Sciences (CASS) in August 2014.
The 34 year old enthusiastic man who is currently Senior journalist and Founder of The Inspirer English Online Media Outlet accessed at www.rwandainspirer.com has served different media houses including Broadcasting and print media institutions and his journey in news writing begun with English papers where he took experience that enabled him to establish a media house, THE INSPIRER in July 2017 to fully and independently serve the community.
Speaking to Pressbox.rw, Hakizimana said that his entrepreneurship journey was interrupted by different issues including lack of access to advertisement markets which is not his sole hindrance, but for the majority of small media houses in the country.
"In the beginning I was trying as other business investors but with passion and vision to make Journalism career a space for human interest expression because we serve our audience (Readers) with the purpose to inform, educate, advocate and entertain through comprehensive and evidence based news. In fact, I tried making partnerships with some private institutions, but, in regard with financial cost, feedback could be waited in vain. Sometimes I could see the business collapsing but I didn't give up," he said.
Five years of his entrepreneurship journey, Elias Hakizimana who was on Friday, May 13, 2022 awarded The Best Journalist of The Year said he went on creating work opportunities and waiting for some positive results that can help him feel strong in media professionalism and fortunately gained complement, comfort and courage from government and development partners through the story grants and awards.
At this time around as Rwanda Journalists Association (ARJ) in collaboration with Rwanda Governance Board (RGB) announce the winners of the 2022 Development Journalism Awards (DJA-2022) on May 13th,2022, Hakizimana returned home with two important trophies coupled with Brand New Lenovo ThinkBook computer laptop worth over Rwf1million for successfully reporting on Agriculture and small livestock and Rwf1million cash prize dedicated to him as The Best Journalist of The Year 2022 who wrote the best story of the year on Pig Farming Development in Rwanda.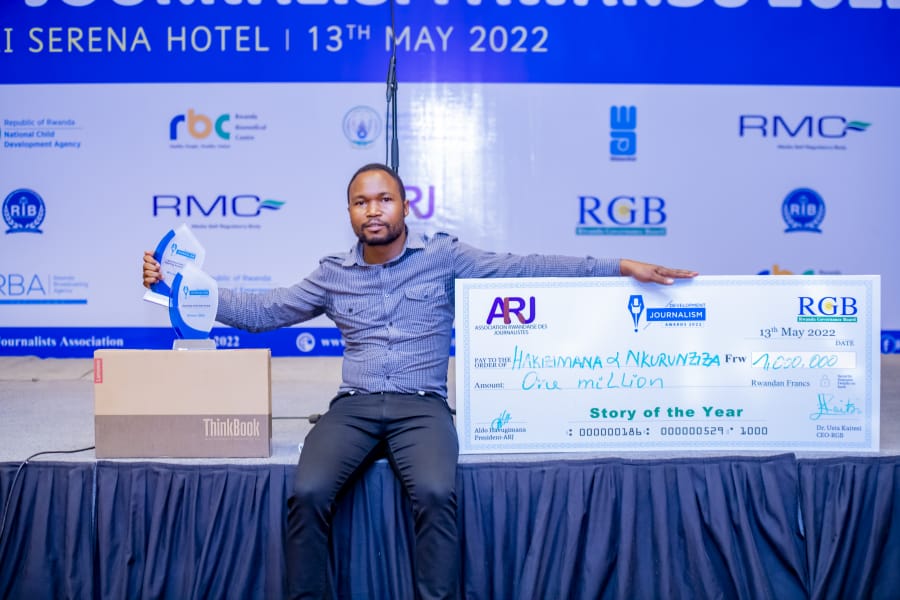 "I am delighted to be awarded these prizes. It is a comfort, compliment and courage and I am very proud of this lifetime achievement thanks to ARJ and RGB and all partners who brought this initiative to life. I encourage my fellow journalists to never give up while trying opportunities. You can fail today but tomorrow get a well-deserved green light and reap from your hard work. The competition was fair and well organized as I did not think of how I could be The Best Journalist of The Year, The Best of all this big number of contestants," Elias Hakizimana noted, owing thanks to the Ministry of Agriculture and Animal Resources (MINAGRI) to bring on board the new category of award in DJA in which he took an award.
He said that these awards will motivate him to put much effort in the career by creating and producing quality content that impacts the communities.
Call for a Strong 'Public – Private Partnership'
Elias Hakizimana as an entrepreneur in media industry in Rwanda since 2017 appreciates a step made by the Government in promoting access to information and freedom of expression coupled with capacity building programmes.
However, he says that something needs to be done in creating many financial opportunities for media practitioners and mostly small media houses.
"The Government of Rwanda has made clear the access to information law where journalists can easily get information from different sources despite existing reluctance or ignorance of some authorities to provide timely information to the journalists. We have seen tremendous achievements of the Government and development partners through Rwanda Governance Board in helping competent media houses to recover from Covid-19 impacts on their work via grant budgets, this has also been a solution for The Inspirer as we have won this grant last year. I would request the RGB's Media Sector Development Unit to continue engaging more partners to financially support our industry and I am sure that we will be performing well and more independently in the near future," says Hakizimana.
He also commends efforts of the Rwanda Journalists Association (ARJ) for promoting capacity building among accredited media practitioners through negotiating the funds for training opportunities.
"This is also a motive for journalists who want to really be professionals, in every sector of work, people always need to learn and make improvements, and indeed, the training courses in different special subjects of journalism reporting enable us to perform to the outstanding level, thanks to our media fraternity institutions ARJ and Rwanda Media Commission (RMC), our self-regulatory body that ensures that practitioners are accredited and comply with ethical standards of the profession," Elias Hakizimana noted.
Event pictorial