Strive Foundation Rwanda (SFR) in partnership with Human Help Network (HHN) has provided fruit seedlings to 244 Child Headed Households (CHH) in Rusizi, Nyamasheke and Huye Districts to motivate fruit trees growing amongst its vulnerable beneficiaries.
About 846 seedlings in total were delivered on November 23, 2020, in five varieties of fruits namely avocado, orange, lemon, guava and mango in six Sectors of Nyamasheke District: Kagano, Knjongo, Rubarambuga, Bushenge and Karengera; four Sectors of Rusizi District: Nkungu, Nyakabuye, Butare and Bweyeye; and two Sectors of Huye Distict: Mukura and Tumba.
According to Esperence Mukeshimana, Agronomist at SFR for Nyamasheke District, this supply is in the context of fighting malnutrition and helping beneficiaries to harvest for markets to earn money.
"We opted for fruits because we wanted to support the fight against malnutrition, as well as targeting a cash-crop option when needed, that is sustaining food security and selling for other profits in case of necessity. We regularly support these households, helping them to help themselves for their wellbeing. We mentor them towards social development." She said.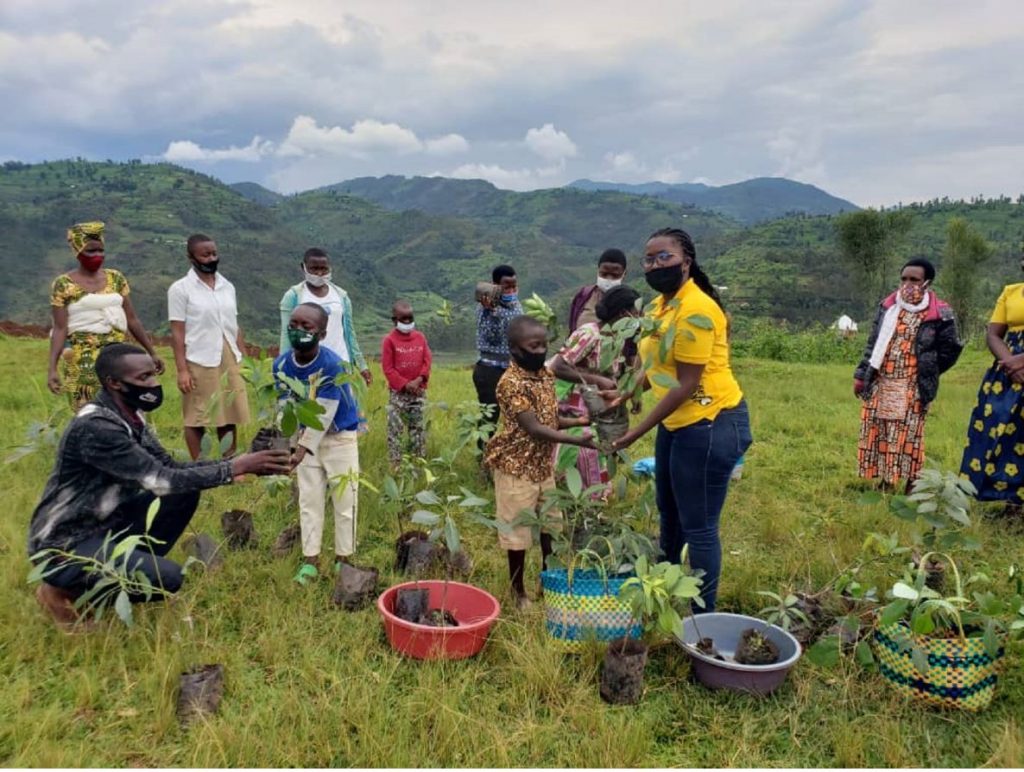 Each household was provided with all the three types of fruits, i.e., three seedlings for every beneficiary.
"I am the head of my family. I live with my two young siblings. One is at the age of 7 years, the other one is eight years old. We live a hard life, but you see SFR is supporting us. This is for the first time that we get the kind of supply to grow fruit trees. We have no access to fruits in our region, as we barely find some to consume. This support is timely and appropriate to us. We have manure to appropriately grow these seedlings." Said Zephanie Niyonkuru, aged 20.
Liliane Nyirabanyarwanda is among other beneficiaries 'Children Heads of Households'. She said: I live with brothers and sisters. No parents. My father died; my mother abandoned us. Life has been very difficult for us. We lack fruit on our diet. We face difficulties in finding food and paying for rent. With these provided fruit trees we will be able to eat and sell for other profits. We will use fertilizers to grow well these trees, as last time they gave us a cow. We already have cow manure."
According to local administration, SFR's supply is very instrumental in helping the government get the needed fruit seedlings for distribution, as fruits are generally in high demand in the community, with fruit trees nurseries being expensive.
"It is very difficult for these children heads of families to find fruits, yet they are the ones who need them the most. These seedlings are expensive. For example, a mango sidling costs between Rwf1000-1500. Fruits play an important role in the fight against malnutrition. It is important to cultivate them. We will follow up to see whether all the people who are given seedlings will make good use of them. We will keep guiding them on the best way of growing them." Said Joseph Hakizimana, Forestry Officer in Kagano Sector, Nyamasheke District.
Through SFR's constant support, Child Headed Households have always been motivated to make best use of their land and practice the most profitable and sustainable farming that includes food and cash crops.