Health-based stakeholders have shown interest in all-inclusive effort to further sustain 'Sexual and Reproductive Health and Rights (SRHR)' for the Rwandan community.
The incentive was upstretched on November 26th 2020, during a national dialogue forum on challenges on the implementation of SRHR laws and policies in Rwanda Organized by Rwanda NGOs Forum on HIV/AIDS and Health Promotion (RNGOF on HIV/AIDS and HP).
"There is an interest and commitment. We do hope that this dialogue identifies what needs to be changed, and issues to deal with. Teenage pregnancy is on the increase in Rwanda. When you look at the most recent findings of Demographic and Health Survey (DHS), of 2015, it was around 7.3%. People should be giving some directions around access to contraception for adolescents. I still believe that you can have sex, but safe sex. It is still a shame that some of our minors don't have access to service. It is our responsibility to find out what needs to be done." Said Aflodis Kagaba, representing the coalition of Civil Society Organizations (CSOs).
He added: "It is still a shame that as we talk about ending GBV, some teen mothers become expelled from their homes, they are left to be on their own. As stakeholders, we need to address that, to create a safe space for every Rwandan, and every citizen to enjoy their sexual and reproductive health rights."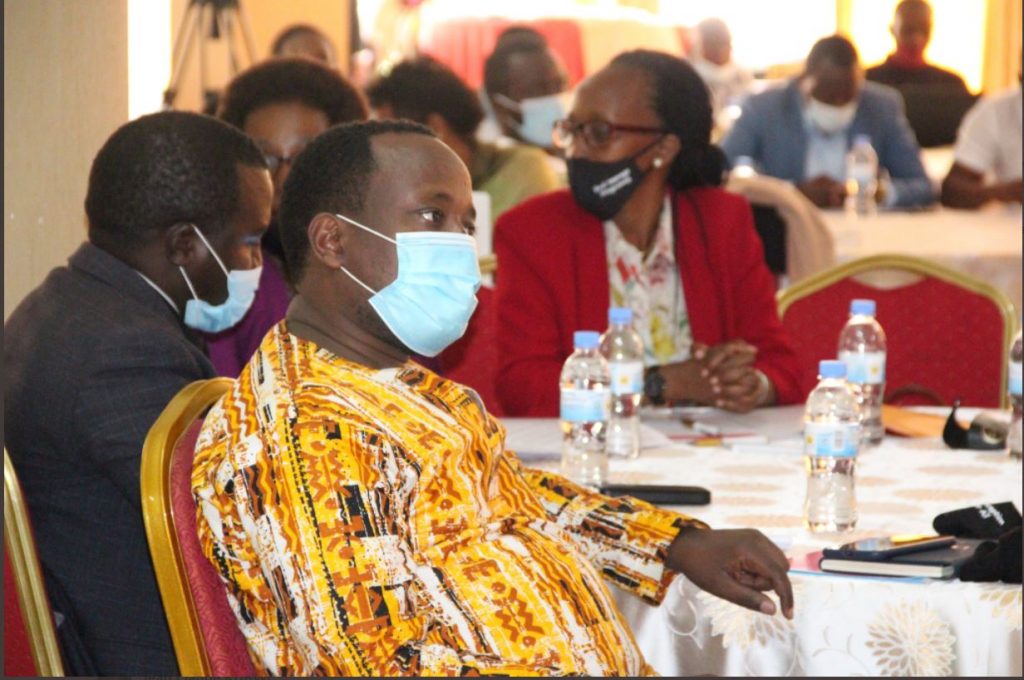 According to Dr Joseph Ryarasa, chairman of Rwanda civil society platform, there is a need to tackle culture-based barriers in order to uphold SRHR amongst families. He also urges that the information should be delivered to both genders.
"Seemingly someone is allowed to have sex at 18, and get married at 21. In our African context, issues related to sexual and reproductive health are most considered taboo. Very few parents talk to their children about sexual and reproductive health. In most cases, it is centered around young girls and women. However, this concerns all genders, including young boys and men since they can play a role in supporting their sisters, wives, and women to make good choices favored to their wellbeing. "Said Ryarasa.
"As we endeavor to tackle existing challenges, we as the Civil society platform, we continue to ensure we exercise our objectives particularly through developing effective partnerships with the national organizations in order to address challenges of SRHR. Parents should talk to their children about protective methods, and all information regarding Sexual and Reproductive health. People are not going to have sex, and I don't think Rwanda is unique. So, we need to make sure that youth have access to services so that we are assured of minimizing teenager pregnancies. I assure we will be able to join hands in advocating for SRHR." He added.
UNFPA states that good sexual and reproductive health is a state of complete physical, mental and social wellbeing in all matters relating to the reproductive system.
In her intervention during the dialogue, Vestine Mutarabayire, HIV/AIDS Programme officer at UNFPA Rwanda said: "To maintain one's sexual and reproductive health, people need access to accurate information, and the affordable contraception methods of their choice. SRHR is at the heart of development. We need a World where every pregnancy is wanted, every child birth is safe, and every young person's potential is fulfilled. Early pregnancy is a consequence of little or no access to school, information or healthcare. UNFPA works to address this issue by focusing of girls' rights and supporting sexual and reproductive healthcare, to help girls avoid pregnancy."
She added: "To ensure that we leave no one behind, we need inclusive global, regional, and national and local partnership between government, civil society and private sector built on shared principles and values and the continued support of civil society organizations on the ground. By working together, we can deliver a Rwanda with zero preventable maternal death and zero violence against women and girls, as required to transform the lives of women, men, girls and boys. And contribute to the healthier and more prosperous Rwanda for all."
Statistically, every day in developing countries, 20000 girls, under age 18, give birth. This amounts to 7.3 million births a year.
"Adolescents should not have children; they should plan for the future instead of raising other children. I urge all of us to strive to improve the way information is presented regardless of culture. Claimed Patricie Mukangarambe, Health Director, City of Kigali
Mukangarambe expressed her appreciation for the the dialogue which he called "appropriate, and timely."
She said that the City of Kigali is continuously ready to work with civil society organizations and other stakeholders to better sustain SRHR policy and implementation.