The coalition of FOUR Civil Society Organizations (CSO) has supported 160 vulnerable families including historically marginalized people, with foodstuffs and hygiene materials in Gasabo District amid covid-19 effect.
Among other beneficiaries of the occasion – which was marked on Monday July 20, 2020 – included vulnerable teachers, especially those from private schools, whose job contracts were terminated amidst COVID-19 crises.
"I am truly pleased with this kind of support. I had no other foodstuffs at home, I am going to feed my kids with this maize flour, beans and milk. It's a great pleasure for me. I live on doing short-term jobs. So, this donation is a boost to my food security with my offspring." Said Angelique Umutesi, a mother of 5 children, after receiving her package.
Jean Pierre Ndacyayisenga, inhabitant of Cyaruzinge Cell said: "I am happy for the foodstuffs and hygiene kit that I was given today. This support is going to help me survive food scarcity, and guide me during my fight against COVID-19."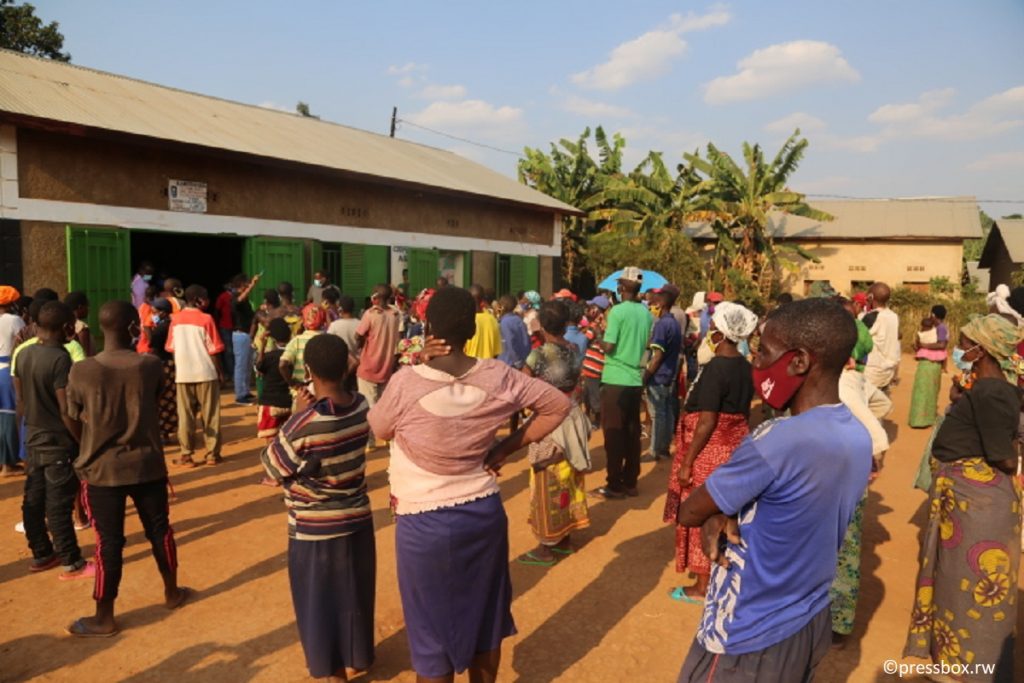 Another beneficiary who expressed her feelings amid the initiative is Colette Nyirabikari from Masoro Cell, who said: "I am a widow with four children who depend on me. My family was in need of such a boost to survive this hard time of Coronavirus. I am grateful to the donors for this relief."
All 160 beneficiaries in total are inhabitants of two Cells namely Masoro with sixty families and Cyaruzinge with 100.
Speaking to the media during the occasion, Jean Claude Nduwayezu, in charge of social affairs for Masoro Cell said that the initiative is significantly helpful to the wellbeing of inhabitants.
"We thank the donors for this support, we appreciate their partnership in sustaining citizens' social welfare. These families have different problems, like being sometimes marginalized amongst the community. So, this is a sign of showing them that they are considered for wellbeing in the society like other people of the country." He noted.
The initiative was implemented by the coalition of four Civil Society Organizations (CSO) including Strive Foundation Rwanda (SFR), Rwanda NGOs Forum on HIV/AIDS and Health Promotion (RNGOF on HIV/AIDS & HP), Health Development Initiative (HDI) and Ihorere Munyarwanda Organization (IMRO) with funding support from the European Union (EU).
"As COVID-19 has made life complicated, we wanted to give our support to families who are most exposed to the effect of the pandemic, that's why we are her today to provide foodstuffs and hygiene materials to such a group of people, to help them recover from consequences during this period of revival. We chose historically marginalized people because they live on wee jobs which are mostly temporal. They are now affected by COVID-19 effect like other categories of people, so they need such a support to boost their revival" Dr. Aflodis Kagaba, Executive Director, HDI Rwanda explained.
"We urge these beneficiaries to keep following instructions to prevent and fight COVID-19 through regular hand washing, face masks wearing and social distancing so that we may hopefully overcome the pandemic and live the normal life again." He added.
The initiative was under the project which came to further the government's stringent measures, in the wake of COVID-19, to combat the spread of the pandemic by ensuring all vulnerable populations who are staying at home and whose daily survival was threatened by the pandemic are provided with food and sanitary materials.
The three-month period project which will be implemented in the City of Kigali, Rwamagana District and Rubavu district targets 2000 vulnerable people in total. Until now, 1425 have been reached.