Vulnerable populations including LGBTI Community, Sex Workers, Young mothers, vulnerable families with children U-5 years in Kigali express their gratitude and recovery after having been supported with foodstuffs and hygiene materials donated by the coalition of four organizations namely: Strive Foundation Rwanda (SFR), Rwanda NGOs Forum on HIV/AIDS and Health Promotion (RNGOF on HIV/AIDS & HP), Health Development Initiative (HDI) and Ihorere Munyarwanda Organization (IMRO) with funding support from the European Union (EU).
"Our profitability has been halted by COVID-19 as our gain is mostly found in inns. In fact, we are really happy for this donation," says a representative of Women Sex Workers in Kigali, known by the name of Consolee
Alice Ufitamahoro, 17, led into temptation and begot a child in her early age, said: "I have been living in miserable life as my occupation was forced to stop amid Coronavirus prevention. I am event decorator; I am the one to take care of my young brethren. I thank the donors for this stuff which I hope will help me abide from any more temptation from lads"
The four organizations realized that COVID-19 aggravates the situation of vulnerable populations living with HIV and TB since they are unable to get essential commodities for their wellbeing as well as sanitary materials increasing their likelihoods to get infected by COVID-19.
"COVID-19 has caused a lot of setbacks to some populations like Women Sex Workers in whom a big number thrive on regular medicine, which makes them need intensive care in terms of nutrition. So, we wanted to support them that they may not go everywhere as it may cause the spread of Coronavirus." Highlighted Bernard Muramira, chairing the coalition of 4 organizations.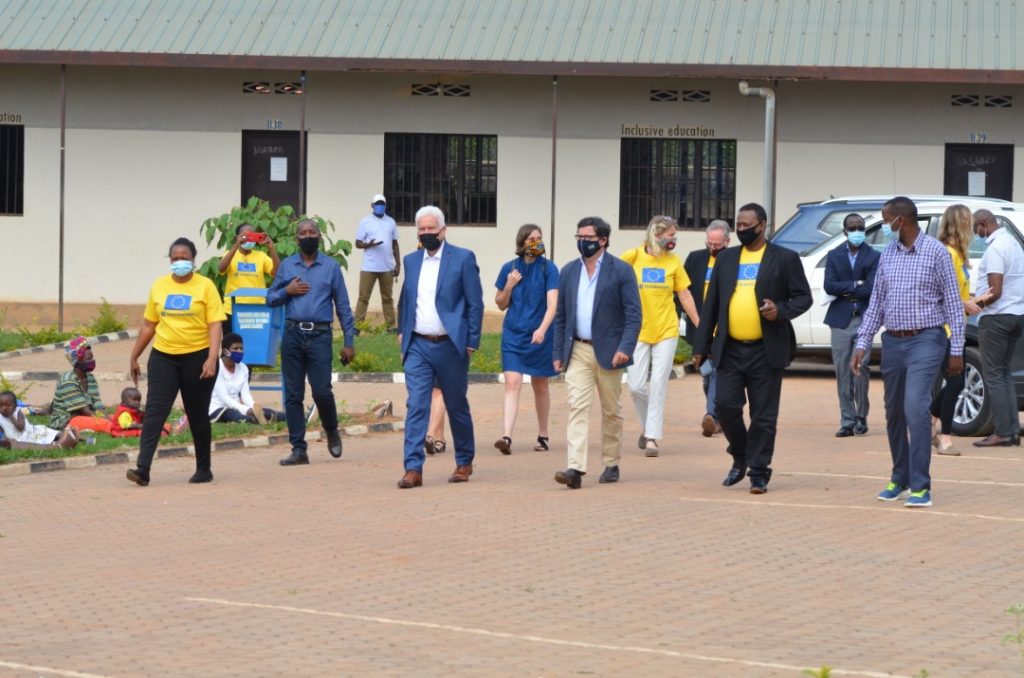 European Union Ambassador to Rwanda Nicola Bellomo expressed his eagerness towards the implementation of this project
"It is part of our team 'Europe response to the COVID-19 crisis in Rwanda' to show solidarity with our brothers and sisters in Rwanda, we are working with the government to support social economic response, we value a lot the role of the civil society organizations, and we are here to work with vulnerable groups, we are working with this coalition of local organizations to address the need of the vulnerable people in different districts in Rwanda, and we are extremely proud of this initiative, we look forward to implementation of this program." He said
The event beneficiaries received diverse foodstuffs and essential hygiene materials, each parting with additional Rwf10000 in cash to buy other basic needs.
The project with the budget of Rwf159m targets 2000 vulnerable people from five Districts namely: Gasabo, Kicukiro, Nyarugenge, Rubavu and Rwamagana.